Cat Netting Provides Solution for Cat Curfew
Posted on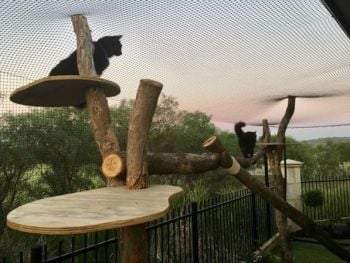 New laws are about to be implemented by the Mandurah Council to enforce cat owners to have their cats locked up from sunset to sunrise in an effort to reduce the negative impact their roaming has on the local native wildlife.
It's not only the City of Mandurah facing a cat crackdown but the state government is also considering a blanket coverage of WA as a whole. These new laws to control domestic and feral cat populations will mean cat owners will require a cat enclosure of some description to keep their pets contained. Hefty fines will be introduced for cat owners who whose cats enter prohibited areas, such as nature reserves and properties other than their own.
Diamond Networks has for a longtime now been providing "Cat Netting" used in the construction of enclosures to both professional installers and DIYer'S.
The benefits are many - not only there for the local wildlife but for the owners themselves to care for the welfare of their pets. By providing an enclosure for your friend you really are on a win!
By doing so you -
Protect Wildlife
Protect your cat from hazards & harm
Minimize vet bills
Minimize theft
Keep neighbor's happy
Diamond Networks supplies a number of specific cat netting widths ranging from 1.2mtr - 20mtr cut to your required length. Our cat netting has been tried and proven over many years and is of a quality that you can expect to last. The net is of an aperture specifically designed with cat containment in mind. The material is UV resistant, non-fraying, strong, durable and easy to work with. We also supply a wide range of hardware suspension accessories and tools such as net scissors for the purpose of installation.
Talk to us about your requirements we have the answer.
For more information about cat curfews speak to your local Shire, and have a look at the video link shown below:
https://7news.com.au/news/animals/what-one-perth-councils-tough-new-cat-control-laws-will-mean-for-residents-c-361500